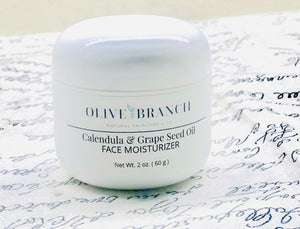 Our face moisturizer is infused with calendula herb.  Calendula is believed to reduce inflammation, reduce acne, and promote healthy skin. This herb is good with skin problems such as burns, rashes, bruised or inflamed skin. It is also a great help to people who suffer from varicose veins. After using the calendula infused face cream for a few weeks, the veins have been known to shrink. It can also help with acne problems, and in an ointment can help prevent dermatitis.
Grape Seed Oil is also another great ingredient used in the face moisturizer.  Grapeseed oil is a natural oil which is high in polyphenols (antioxidants).   Grapeseed oil does not clog pores, absorbs easily into the skin, does not leave a greasy feel to the skin, and provides the skin with anti inflammatory properties.  It is high in linoleic acid; providing moisturizing effects to the skin. 
With these two key ingredients along with various other skin loving ingredients your face will love this moisturizer, as it will replenish your skin while you sleep.   
To use: Apply to a clean and dry face.  Apply in upward strokes using fingertips to the entire face and neck. Use at night before bed or in the morning. Do not use it to close  or get in eyes.
Ingredients: Calendula Infused Water, Avocado Oil, Vegetable Glycerin, Emulsifying Wax, Hexane free Castor Oil, Organic Shea Butter, Stearic Acid, Optiphen (preservative) Grape Seed Oil, Vitamin E. Oil, Phthalate Free Fragrance Oil
CONTAINS NATURAL INGREDIENTS
HANDCRAFTED IN OHIO