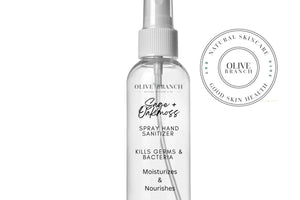 Our spray hand sanitizers are made up with 91% isopropyl alcohol and will not dry your hands out, but will maintain your moisture in your hands and will plunge your senses into an aromatic courtship with every spray.
Kills 99.9% of most common germs.
To use: Spray on hands and rub hands vigorously. 
Ingredients: distilled water, 91% isopropyl alcohol, polysorbate 80, essential oil infused phthalate free fragrance, formaldehyde free preservative
Size: 4 oz. (115 g)
CONTAINS NATURAL INGREDIENTS
MADE IN THE U.S.A.